It's the final week of DALMOOC: On the one hand I am glad that from now on I've got time for my other hobbies again (my fish tank needs my attention), on the other hand I look back on nine weeks of really interesting and challenging MOOC activities – again a sincere thanks to all of you! My feedback to course structure and my learning can be found in many of my blog posts, especially week7.
 1. DALMOOC CMAP
Creating a DALMOOC cmap is a very useful task, reminded me of my Master Studies some years ago, where we did that a lot in our learning group. I could have worked a few more weeks on that (already spent many hours and some evenings with it) – Normally I would have created a cmap for each of the 4 main units in DALMOOC and another one for the course structure, so as a result, there is much content in my cmap. The cmap includes my understanding of what was important and what I would like to keep in mind – I hope I got it right and there aren't too many mistakes in it. Data source and method: I reread my blog posts and copied contents and keywords in the cmap (no, I didn't do text mining for that…). There are some things I didn't cover in the map, for instance, ProSolo functions (sorry, it doesn't mean that I didn't like ProSolo), learning analytics software, more detailed connections between the units, …
I think, others might be scared  or irritated by the amount/mass of information, but I tried to use colours to make it a little bit easier and to show the original course units. Hopefully, I can use the cmap for my job should the topic arise (at the moment I've got my hands full with a lot of other elearning related topics).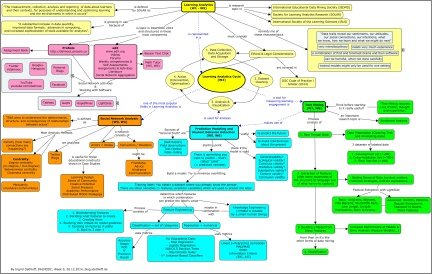 Download DALMOOC CMAP [jpg]
Download DALMOOC CMAP [pdf]
Download DALMOOC CMAP [cmap]
2. Learning Analytics in Germany
Based on competency 9.1, I thought it would be a good idea to collect some links about Learning Analytics in Germany. I didn't realize at the time that so many conferences and working groups covered the topic "Learning Anaytics" in their program this year (I've attended some of the conferences…).
LA in general
LA as conference topic in Germany 2014 (selection)
Important international societies that are doing research in Learning Analytics are:
 (Update 31.12.14)
And that's my certificate: